An innovator in the field of commercial training, VRSim, Inc., is happy to declare SimSpray 3.0, which is the next generation of their famous VR tool for paint training. The redesign of SimSpray proffers a more real-life and intuitive user experience by displaying trainee feedback, better visuals and the capability to imitate bigger work environments.
Owing to HTC VIVE Pro's enhanced visuals and optics, SimSpray possesses the most precise visuals for an immersive and realistic experience. SimSpray's training system leverages years of customer feedback, research and information from industry experts and delivers a faster, cost-effective, safer and more efficient solution.
CEO and President of VRSim, Matthew Wallace, remarked that SimSpray 3.0 is the next evolution in the training of virtual skills.
With the help of instant feedback, immersive learning and performance analytics, students can train in a more efficacious manner that is not feasible with real-life training. – Matthew Wallace
The company is thrilled to provide this solution to the industry and to their customers as the most improved training simulation they have ever created.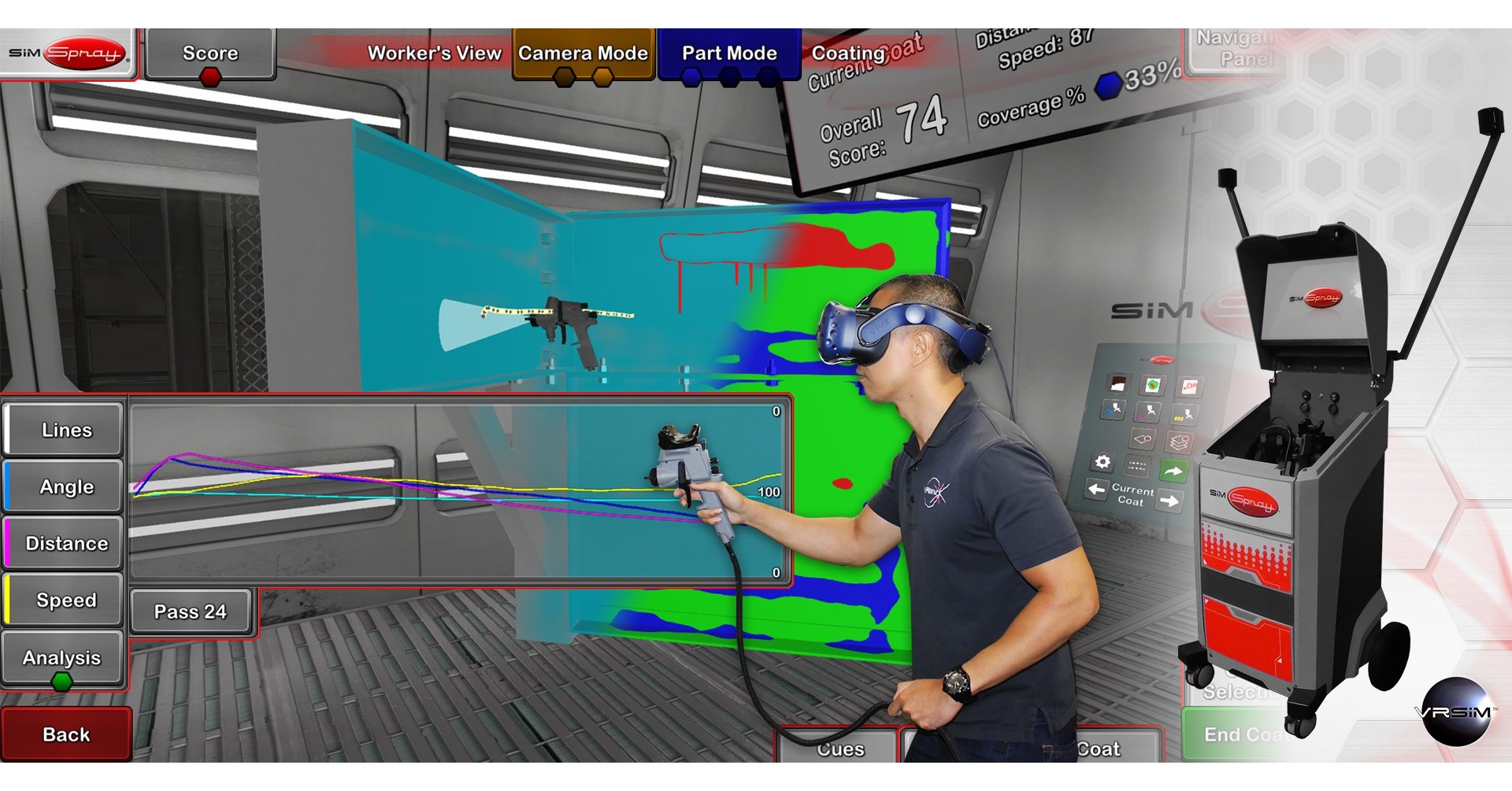 Being the chief tool for training in the paint and coating industry, SimSpray makes use of virtual reality for creating educational and appealing simulations. The VR experience makes the learning procedure better with tools that heighten immediate feedback, training productivity and analytics that are not found in scenarios of typical training. The feedback and tools of SimSpray comprise live scoring,  performance reports and kinesthetic cues. This advanced tool offers trainees and trainers the capability to practice, evaluate main metrics, identify mistakes and better their skills in one training session. SimSpray performs as a force multiplier for training by filtering the experience of training into repeatable, short exercises.
Anton Ruesing, who is the Director of the IFTI (International Finishing Trades Institute), said that SimSpray is the most efficient tool available on the market. So, they are excited to apply SimSpray 3.0., the latest version. The  Directors of Training have utilised SimSpray for recruiting and training the upcoming generation of IUPAT (International Union of Painters and Allied Trades) apprentices since 2009.
The Director of Training for the Finishing Trades Institute of Southern New England, Mike Komaromi, wants to use SimSpray 3.0 at his facilities in Connecticut. He commented that SimSpray is an important tool, allowing their trainees to begin the learning process on the very first day. The system's new design makes SimSpray a highly user-friendly tool for them.
With the help of VR training, one can gain cost-effective and safe options of training for high-risk, time-consuming or expensive experiences. As SimSpray requires minimum setup and is easy to use, one can take maximum advantage of VRSim's insights, research and experience with unique technology by proffering mobility, rapid deployment and accessibility. SimSpray is the most effective VR training tool made for coaters and painters, and it comes with several pros for international industry and education organisations. VRSim was first released in 2011, and it is still improving SimSpray with extra parts, processes, training content, besides hardware and software updates.