Frontgrid, an immersive technology company based in North Wales, which specialises in virtual reality (VR) attractions and adventure experiences is gearing up for a worldwide expansion drive. It is the recipient of a £100k investment from Bathgate Business Finance, a Wirral firm specialising in finance.
The company, based in Conwy, is experiencing a massive boost in its international growth potential, following the £100k capital it has accumulated. The company has secured a handful of orders for its virtual reality-based paragliding experience offering, ParadropVR, which is also the first of its kind in the world. It has received orders from countries like Dubai, India, Malaysia, and Thailand.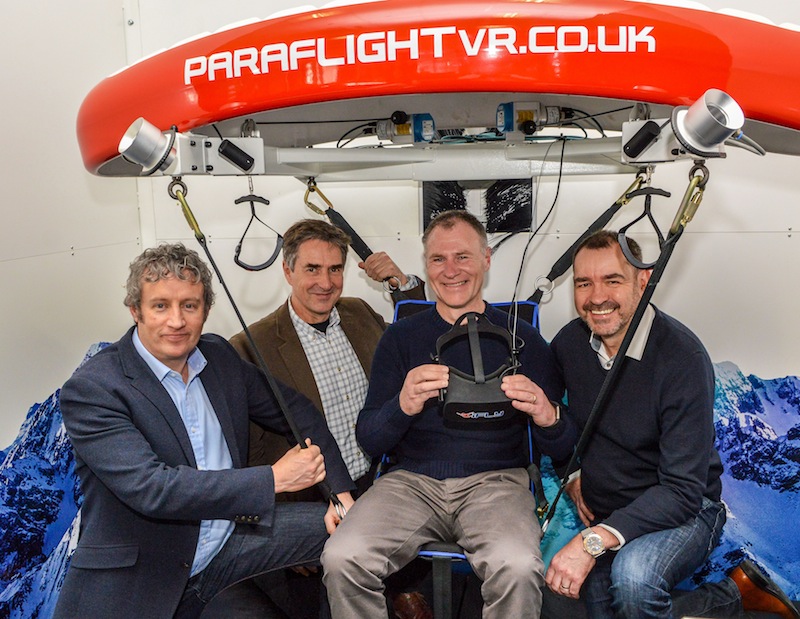 Bathgate Business Finance, based in West Kirby, managed to secure a £100k loan-against-security from Reward Finance Group, a Manchester-based funding agency for small and medium-sized businesses. Using the loaned amount, the Frontgrid team were able to create a ParadropVR unit meant for exhibition at national and global-level trade shows. It will give the product significant exposure to potential buyers across the globe.
The most recent group of orders were secured by the Frontgrid team, when the team carried the ParadropVR unit to the 2018 edition of the IAAPA Expo, a famed global industry features trade show, back in November.
The ParadropVR stands apart from a great number of virtual reality attractions available in the market today. It offers a full-fledged immersive experience and generates a one-of-a-kind and hyper-realistic flying experience for the user. This piece of equipment achieves a finely balanced combination between astounding virtual reality graphics and physical movement dynamics. The game experience it offers is skill-oriented and controlled completely by anyone who is participating in it. It enhances the entire experience and takes it to a greater level.
Frontgrid is a company established by David Wood, a former officer in the British Army, and Matt Wells, a paratrooper of the British Army. Launched in 2017, the company secured its first order comprising of four units from the Universe Science Park in Denmark. In 2018, the company's product was installed at other locations, including The Bear Grylls Adventure, the latest £20million indoor Birmingham NEC adventure venue from Merlin Entertainment, and iFly situated in Basingstoke.
People are seeking out of the box, memorable and socially viable experiences. It goes beyond just staring at a screen. – Matt Wells, the CEO of Frontgrid

Upwards of half of the global population dwell in urban centres, do not have ready access to exciting real-world adventure encounters. Giving such experiences to everyone is the main motivation behind ParadropVR.
Wells spoke about the investment, stating that the representatives of Bathgate Business Finance took their time to really understand what the company was offering. Following an analysis of the product, the funding process started as the finance organisation saw great potential. Andrea Knox from Knox Commercial Solicitors was responsible for introducing Frontgrid to Bathgate.