Mixed reality is a form of immersive technology which often has to be used withthe help of a capable computer, smartphone, and a specialised headset. Aimingto make mixed reality more accessible, technology firm ZSpace has come up witha breakthrough innovation for teachers, students, and healthcare businesses.The new technology is a combination of virtual reality (VR) and augmentedreality (AR). It is brought to the users by combining three-dimensionalfeatures with a pair of lightweight glasses.

The ZSpace laptop is poised to be a comprehensive technology solution that canbe used by training institutions and schools for facilitating greateraccessibility to mixed reality technology. The laptop, which has powerfulspecifications, is equipped with state of the art screen technology. It alsohas the necessary software application and glasses which track the user's head.The setup can generate vivid mixed reality experiences for users.

The configuration of the ZSpace laptop indicates why it is a powerful mixedreality device. It is not as high-performance as the cutting-edge Ryzen APUprocessors. Yet, it has a dual-core AMD APU A9-9420 processor, which is amplefor the needs of educational audiences. In the memory department, users canfind a DDR4 generation 8GB RAM. The laptop also comes with a convenient 256GBSSD to ensure smooth operations. The APU contains a graphics chip which isbased on the Radeon R5 technology from AMD.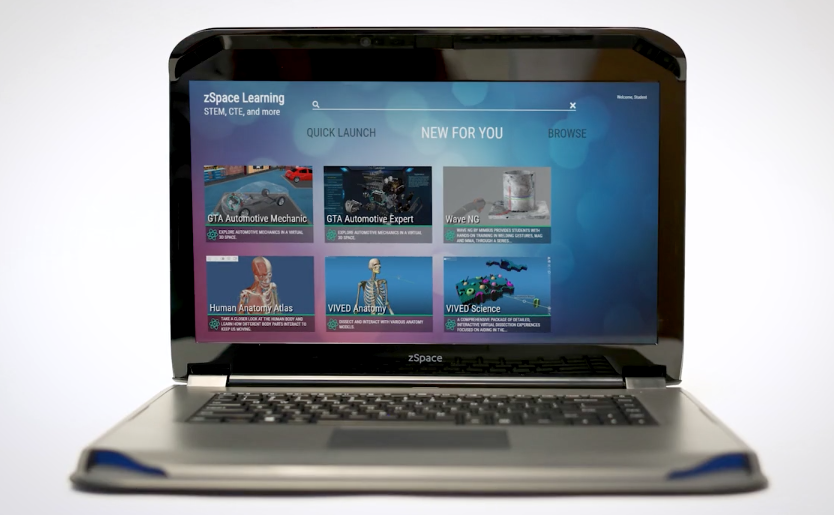 The laptop comes with a specialised 1080p resolution display measuring 15.6inches. The user can combine it with a pair of polarised circular eyeglasses,to get a much more interesting three-dimensional perspective. Achieving such aview does not require any additional hardware components. The OS chosen for thecomputer is Windows 10, and it also has several connectors including an HDMIout, two USB-A 3.0 ports, a solitary USB-C data and charging port, a Kensingtonslot, and an input port meant for use with a stylus.

The ZSpace laptop benefits from having software that was designed with aconsideration of its hardware. It currently contains several learningapplications, encompassing subjects like biology, physics, programming, andeven art. But the device goes beyond educational use. It also hasspecial-purpose software for medical imaging, veterinary and welding trainingmechanisms, along with three-dimensional modelling software. These constituentsare able to offer viewing experiences that incorporate an additional dimension,something which is not achievable through 2D screens.
The movements of ZSpace users are also tracked by theglasses, to facilitate flawless 3D object orientation from various interestingangles. Additional options for input are provided through a stylus pen. Usersare able to tilt, rotate and tap on-screen 3D items in an intuitive way.
ZSpace have also left some options open for schools who may want scaled-downversions of its offering. Its all-inclusive offering has different software andhardware variations.

Training institutions and educators are able to purchase the ZSpace laptop now,and the company is looking forward to gaining insight regarding pricing.