OMSE, a London-based design company, has developed an augmented reality (AR) campaign for cultural centre Printworks London. The development works to alter fixed typography into 3D animations.
OSME had developed this latest inventive campaign for promoting Printworks' autumn-winter events launching across a wide selection of platforms.
The current graphical character of the venue is centred around its legacy as the biggest printing company in western Europe. It features distorted typography representing the appearance of cylindrical rollers conventionally utilised in printing presses.
The concept of using AR was adopted by OMSE as it wanted to expand upon the experience of viewers, and generate unique reciprocity between them and the work.
Viewers can explore the artwork images in the Printworks augmented reality application with their phone cameras. When viewed through the application, the cylindrical shapes are seen rotating. Users can also go around the artwork and observe it within a 3D space setting.
The application helps viewers experience animations when they focus their phone cameras on specific printed artworks. It is also compatible with online published digital imagery, and with the large billboards put up across London and many other cities in England.
The set of moving imagery emphasises the original character and theme of the printing press, as the typography forms are brought to life, and given a timeless quality. The augmented reality technology is also being used to unsheathe additional content layers, which comprise of artist names and event information during the campaign.
Briton Smith, OSME director told Dezeen that traditional media forms are incapable of providing vivid experiences. The two-dimensional and static environments of these media forms are not well-suited for interactions.
The development is completely new and something that people have not experienced before. It is more interesting than any conventional poster. – Briton Smith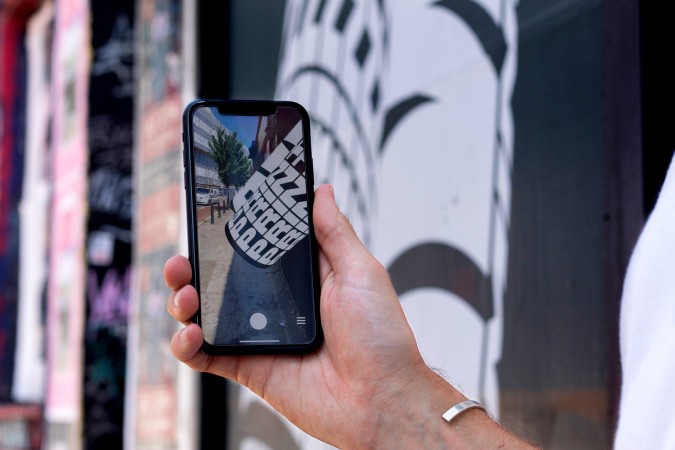 Augmented reality technology is used for developing interactive encounters through the superimposition of specific computer-generated imagery (CGI) objects in a real-world setting.
Smartphones and tablets now come with AR technology that facilitates ubiquitous accessibility, and many businesses are in the process of finding its possible applications.
Furniture company Opendesk is utilising AR to aid users in understanding how furniture will look within their residences. A digital library of three-dimensional objects, launched by Google, can be used for embellishing AR worlds.
The new campaign has evolved from a past project of OMSE, which was developed for a typography exhibition named Agenda 2010. The exhibition was organised to signify the release of its newly-designed typeface.
AR and variable fonts are two of the technologies used for the project, to enable the incorporation of typeface variations within a singular file.
OMSE is aiming to discover methods of combining conventional media with augmented reality. The new project is an instance of how immersive technology can be utilised in the real-world to develop fresh and captivating experiences.
Augmented reality is a technology that has not yet been experienced by many people. OMSE has goals to make announcements regarding its autumn/winter product line. – Briton Smith