The year 2018 has been a breakthrough period for AR tech in many ways. This trend was also visible at the 2018 CES (Consumer Electronics Show), held in Las Vegas. The event witnessed the advent of numerous augmented reality oriented technology entries, including AR smart glasses. Technology that is considered as the driving force behind augmented reality, is being incorporated in many products showcased during CES.
Augmented reality technology for the automotive industry
CES 2018 had many indicators signifying the implementation of augmented reality technologies in a diverse range of applications. A remarkable example of this phenomenon at the event was credited to Byton, a Chinese electric car automobile startup company. It announced news regarding its plans to incorporate gesture technology as a communication channel for its new electric vehicle, the Byton Concept SUV.
Labelled as "Air Touch", this latest technology enables users to prop up and utilise a virtual display control panel just through their gestures, while they are within the car. Apart from gestures, the electric car has several other AR-type communication features.
The new Byton Concept SUV also has built-in Amazon Alexa features, thus enabling the use of all en vogue voice services catered on the Amazon Echo ecosystem, while the car is in use. The vehicle, set to hit the Europe and US market in 2020, will have a $45,000 sticker price. It has a steering wheel equipped with a touchscreen, which can be used to control various vehicle functions.
AR technology applications beyond our world
Apart from AR becoming instrumental for tech companies, aerospace giants NASA also shed light into some intriguing ongoing projects, which aim to introduce AR functionality to Mars.
The "Access Mars" virtual reality project, formed by NASA with collaborator Google, obtains data from the NASA Curiosity Rover and utilises the same to create a realistic first-person driving experience. It is a development that will pique the interest of Mars exploration enthusiasts.
Notable AR technology innovations
A sizeable chunk of devices showcased at the CES event had access to the Amazon Alexa voice assistant system. One noteworthy example of such technology was the latest Vuzix sunglasses. Know as the Vuzix Blade, the glasses offer its users an experience involving the most intriguing AR nuances. Consumers can make use of voice or physical controls to take charge of AR interactions.
RealWear, an AR hardware brand, was also a prominent contributor during CES. The company manufactures a unique gadget, which works like a head-mounted tablet computer. Geared towards a user base of safety helmet wearing heavy industry workers, the device provides powerful features similar to those of smart glasses.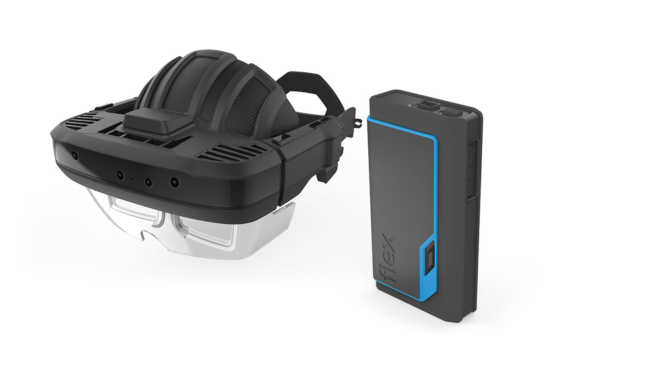 Flex, a globally leading electronics ODM (Original Design Manufacturer), made a series of groundbreaking AR-related announcements. During the event, the company released a brand new AR reference structure meant for professional, enterprise-level AR applications.
Tommy Palladino from Next Reality stated that this latest development from Flex will make life easier for manufacturers who are gearing up to introduce enterprise-level AR headsets.